Bookish Development Diary, episode 6.
Call me an idiot ("Sam, you're an idiot" - ed.), but whenever I try to use UISplitViewController, I seem to get myself into a tangle. It doesn't work the way I expect it to.
What I generally want is an index view side-by-side with a stack of detail views.
If I'm on a phone, or a horizontally-compact environment, I want the index to collapse onto the stack, so that there's just one view. Tapping an index item here should push the detail view onto the stack, replacing the index.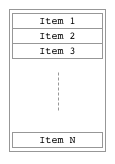 Assuming that I'm not restoring the previous state of the app, this is how things should start in a compact environment. I definitely don't want the app to start showing an empty detail view, and hiding the index 🤦🏼‍.
If the view is collapsed and some detail is showing, I don't want to be able to pop up the index view, or slide it over the detail.
I just want to be able to pop the navigation stack to get back to the index.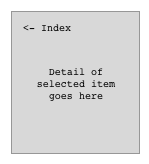 This is not rocket science!
I'm sure that you can get UISplitViewController to behave like this, but invariably I seem to end up having to jump through a lot of hoops to do it, and even then sometimes do it wrong.
I hit this situation yet again whilst working on an example viewer app for Datastore, so I started wondering how easy it would be to just throw it away and make something simpler…